Superforgiata CL
made in italy
SUPERFORGIATA patří mezi absolutní špičku mezi OZ koly. Díky ikonickému závodnímu vzhledu vzhledu a skvělým výkonem obshaují to nejlepší z DNA OZ:
- Perfektní vyváženost mezi rekordně nízkou hmotnostní, optimální tuhostí a extrémní pevností dohromady dává vylepšené jízdní vlastnosti a výkon.
- Designováno konstruktéry z F1 a vyrobeno v oddělení OZ Racing se stejnými technologiemi a stroji jako závodní kola
- Výkovky splňující letecké předpisy, vysokopevnostní hliník znamená skvělou mechanickou sílu a maximální pevnost kovu... to vše dělá kolo téměř nezníčitelným.
- Technologie HLT použitá během kování umožňuje zlepšit mechanické vlastnosti a markantně snížit hmotnost.
- Nejvíce testované kolo: žádné jiné kolo si neprojde tolika zátěžovými a kvalitativními testy včetně LBF testu jako Superforgiata.
Verze Central Lock jsou speciálně pro Porsche GT2,GT3 a Turbo
Product Details
Model Monoblock
Design mnoho-paprsek
Production process Výkovek + HLT
Material EN-AW 6082
Characteristics



Certifications



Offest range 40-63
Width range 8,5-12
Weight table
View table
Weight table
| Size | Fastening | ET | Weight (Kg) |
| --- | --- | --- | --- |
| 8,5x19 | CL | 53 | 7,9 |
| 9x19 | CL | 53 | 8,18 |
| 11x19 | CL | 51 | 9,44 |
| 12x19 | CL | 48 | 9,91 |
| 12x19 | CL | 63 | 9,7 |
Colour chosen
Diameter chosen
Price
Download
How find product
Accessories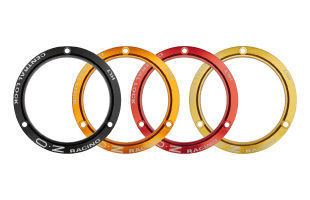 Anodized center rings